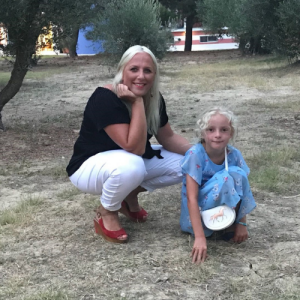 Q1. How long have you been a member of the team at the Bath Massage company?
I've been working at the Bath Massage Company for over 18 months now. I started out doing Saturdays but it's since grown and I now practice Wednesdays through to Saturdays.
Q2. What did you do before you joined the company?
I was a career civil servant – so very different! I left in 2013 when my daughter was one, and decided to retrain, initially in talking therapies before finding my true home with the physical therapy of massage.
Q3. What treatments and therapies do you specialise in?
I qualified in Holistic Massage Level 4 at the Bristol College of Massage and Bodywork, and I'm a member of the Massage Training Institute (MTI). I love doing lovely slow, relaxing, deep tissue work, especially tackling clients' tight shoulders and necks. I've done further training in myofascial techniques which I often incorporate if I feel the client would benefit from it.
I'm privileged to work with a lot of pregnant clients too and was fortunate to train with Susan Yates of the renowned Wellmother organisation. You'll often find me using the gym ball in those sessions!
Q4. As a pregnancy massage therapist, what advice do you often find yourself giving clients?
To stay active throughout their pregnancies balanced with plenty of rest, especially if sleep is harder to come by in the latter stages of pregnancy. To let gravity take its course and relax after a day spent on their feet, by kneeling down and leaning onto a gym ball, sofa or chair. Their partners can also help by applying a little pressure to the sacral area of their lower backs which helps relieves tightness and aches in the lower back and hips – very welcome! Also, to quite literally rest with their feet up, which helps prevent swelling (oedema), especially in the ankles.
Most importantly, to listen to the advice of the medical professionals (and others), but to trust the wisdom of their own bodies too.
Q5. Do you have a favourite essential oil or blend, and why?
It's got to be Rose Geranium – it's uplifting and balancing and has that lovely, relaxing spa smell to it!
Q6. How do you relax and rejuvenate when you are not working?
I usually attend a yoga class on a Monday morning which I find really sets me up for the week. I go along to Huw Griffiths' Mindfulness sessions in Larkhall when I can, and have attended a couple of Huw's woodland sessions – always uplifting and life affirming. We've also taken over an allotment recently, and I find just being in that space relaxing. And on a Sunday, which is often the only full day I have with my partner and our 6 year old daughter, we love to go for a walk – Bradford-on-Avon to Avoncliff with a stop at the Cross Guns is a favourite of ours! Like a lot of Bath folk, we love Cornwall and it's become a family tradition to head there at Easter for a break. I'm also lucky enough to have been brought up by the sea, and we regularly head back down to Dorset to visit friends and family – time spent at the coast is always rejuvenating!
Q7. What kind gestures do you appreciate the most?
Simple things – a smile, an acknowledgment, a door being held open, a text from a friend – the usual I guess! Brendan, my partner, always brings me a cup of tea in the mornings, which is always appreciated! I especially love spontaneous cuddles with my daughter, Hebe, and being presented with her artwork. If she and Brendan have been shopping, I often receive flowers at her request. I'm lucky that both Brendan and Hebe are two of the kindest people I know!
Q8. Where in the world could you see yourself living other than where you are now?
If my partner had his way, we'd be living where I grew up – on the south coast of Dorset in the Weymouth and Portland area, ideally with a couple of dogs and a house with a view of the sea! But I have to say, I feel very at home in Bath, and couldn't see myself living permanently anywhere else. Mind you, a holiday home in Cornwall would be very welcome!
If you'd like to meet Jo for a treatment she currently is available Wednesday to Saturday  – to make an appointment please contact us.