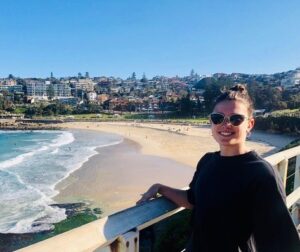 Q1. Tell us a bit about yourself Jess
I am originally from South West London, and I qualified in sports massage 3 years ago. I have since been practicing freelance from home, whenever I'm not here in bath, with regular clients.
I am currently about to start the final year of my Sport & Exercise Science degree at the University of Bath. I have a history of involvement in elite sport throughout my teenage years, and I've since developed a passion to work in the field. I'm a happy, easy going person who loves a good chat!
Q2. Your degree sounds fascinating, would you share what the course is and what it involves
My course is Sport & Exercise Science which essentially develops an understanding of how humans' function in sport, physical activity and health environments. There are three core disciplines within my degree here at bath, these include; 1) biomechanics – exploring the ways in which humans create and control movement, particularly athlete's technique, 2) physiology – encompassing the structure, function, regulation and performance of the body's systems and how these relate to sporting/exercise performance, and 3) Psychology – examining the role of thoughts, feelings and behaviours in both sport and exercise settings and the impact these may have on performance and participation.  
Q3. What made you decide to train as a Sports Massage Therapist
I decided to train as a Sports Massage Therapist during a gap year that I took before starting university in 2017. At the time I was in full time training as an elite triathlete and was looking for something that I could do to further my personal and professional development while I wasn't studying. During this time, I required regular sports massage myself and found it frustrating that I couldn't afford clinical prices to receive treatment as much as I needed. I also had several friends in the same position, which inspired me to complete my level 3 sports massage qualification with the intention of providing affordable treatment for athletes. Within my network at the time I was fortunate enough to have several athletes and friends who were interested in my services, many of whom I still treat today! I then also began to develop a recreationally active client base through word of mouth and friend referrals.
Q4. You have worked with some exciting organisations – tell us how you got involved withTeam Wiggins U23 Cycling Squad
I am fortunate enough that a few of my regular clients are professional road cyclists who live and train in my area. Through these athletes I was lucky enough to learn that the Team Wiggins U23 team were looking for a massage therapist to travel to the Kreiz Breizh Elites stage race in Bretagne, France, as a soigneur. After chatting to the team director at Wiggins about my experience with road riders I was invited to travel to the race as a soigneur (often referred to as a swannie) for the team. A swannie's main role within the team is to provide massage therapy for the riders both pre (for warm up purposes) and post-race (for maintenance purposes). The role however also involves looking after the general welfare of the riders with tasks such as preparing their breakfast, preparing race nutrition (water bottles and food) and feed zone assistance throughout the race.
Q5. Tell us about your time in Australia working at the NSW Institute of Sport
Last year, as part of my degree, I was fortunate enough to secure a placement working at the New South Wales Institute of Sport (NSWIS) in Sydney, Australia. NSWIS is a government funded sport science institution dedicated to supporting Australia's most talented athletes to become the worlds' best. The institute aims to achieve this by providing an integrated multidisciplinary service to athletes that is unparalleled around the world. This includes integrated support in disciplines of Biomechanics, Exercise Physiology, Psychology, Performance Analysis, Strength & Conditioning, Medicine, Physiotherapy, Sport Consultancy and Athlete Wellbeing & Engagement. My role as a Sport Science intern was to work across all disciplines within the institute to provide performance support and to impact the success of athlete scholars within the many NSWIS sports programmes. Over time I became predominantly embedded within the track cycling and hockey programmes, mainly providing physiology and performance analysis support. However, I was fortunate to work with a great number of athletes and sports including para-archery, water polo, swimming, athletics, netball and diving to name a few. The experience was incredible and living so far away from home really taught me a lot and allowed me to develop greatly as a person.
Q6. What makes a Sports massage different from other massages and why would people need to get one?
The main difference between sports massage and other forms of massage is that it tends to be deeper and more area specific. A sports massage will often involve greater pressure and more in-depth techniques than other forms of massage, and although the goal is not to cause pain, it can be slightly uncomfortable at times. The aim of sports massage is to manipulate soft tissue in such a way, so as to prevent or treat sports related injuries. This does NOT mean that only athletes can get sports massages. Anyone can benefit from a sports massage, whether you are an elite athlete, go to the gym regularly or simply walk to keep fit! A person may get a sports massage if they have specific areas of discomfort or tightness; for example someone who is on their feet all day may find themselves with particularly tight calves or sore knees, or an individual who sits at a desk all day may suffer from tight upper back and shoulders. Additionally, an athlete (or anyone who regularly exercises!) may wish to receive what we refer to as a 'maintenance' sport massage. This is a more general treatment that focuses on flushing out the muscles that may be used extensively in the individuals sport. This functions to reduce injury risk and muscle soreness, allowing them to train and compete to the best of their ability.
Q7. Any finally, what do you do to relax and unwind after Uni/work?  
To relax and unwind I love to keep fit. In particular I enjoy running and cycling in my spare time and occasionally I like to set myself a physical challenge to complete to keep things interesting! I also really enjoy spending time with friends, eating out and going for coffee. I'm a huge music fan so I spend a lot of my free time listening to music and I love going to live music events.
If you'd like to experience Jess's treatments please contact us.