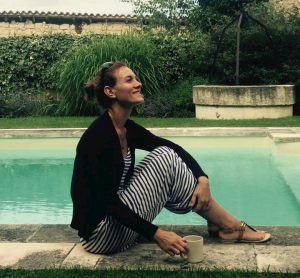 Q1. You've recently joined the Bath Massage company, what brought you to join the team?
It was a stroke of luck. I've just moved back to Bath and was looking for jobs in massage therapy,
but more specifically therapeutic, deep tissue, and pregnancy massage. I searched online for
massage companies in Bath and the first one that came up was the Bath Massage Company. I
went onto the website and loved everything I read, so I wrote to Polly on the off chance she was
looking for a new therapist and my timing couldn't have been more perfect. What stood out to me
over other massage companies was the emphasis on focusing on the client as an individual, and
not just treating each client the same or following a set routine. It's hard to find that.
Q2. What did you do before you joined the company?
I owned my own company for 6 years. I started as a Health Coach, helping people address their
diet and lifestyle, and then I trained in Massage Therapy and Reflexology.
Q3. What treatments and therapies do you specialise in?
I specialise in therapeutic massage which tends to be deep tissue, reflexology and pre- and postnatal
massage and reflexology. I have completed lots of CPD courses but I keep coming back to
the same treatments. I believe that being committed to two or three therapies can be more
effective than practising too many.
Q4. Do you have a favourite essential oil or blend and why?
I like to use a good quality eucalyptus oil as a lovely inhalation when the client first lies down, and
then when they turn over. On pregnant clients I substitute eucalyptus for cypress. Massage can
make you so congested and yet it is so important to breathe! I personally love the citrus scents…
grapefruit, lemon, and tangerine are favourites, as I find them very happy. Another favourite is
rosemary which really helps to clear my mind, and if I'm feeling really unbalanced I burn
frankincense.
Q5. As a reflexologist, what do you think complements your treatments?
As a reflexologist I think it is really important to love and understand feet. I especially love it when I
give a full body massage and pick up on areas that are tight or out of balance, and then continue to
work these areas on the reflex points on the feet to further help the issue. I completed a course in
Spinal Reflexology two years ago which focused on just working the spinal reflex on the foot. Each
nerve between the vertebrae connects to an organ in the body. So for example, if the thyroid gland
is out of balance, working C7 on the foot can really help. I have found it the most effective way to
treat clients so far.
Q6. How do you relax and rejuvenate when you are not working?
I walk everywhere and that is my therapy and exercise. Music tends to be my go-to when I'm
starting to feel low, I love playlists with happy folk music…it just makes everything instantly feel ok.
Q7. What kind gestures do you appreciate the most?
The simple ones. A bunch of wild flowers, a beautiful card, a smile. Of course the kindest gesture a
client can give is a referral!
Q8. Where in the world would you like to travel to next?
New Zealand…I get the impression they are big on health and wellness and all things natural,
which is just up my street. But not for a long time. I have no travel bug left in me for the moment!
I'm focusing on growing some roots for now.
If you'd like to meet Mel for a treatment she currently is available Monday, Tuesday, Friday and Saturdays – to make an appointment with Mel please contact us.