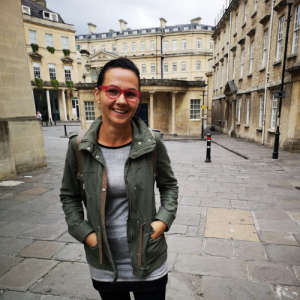 Q1. How long have you been a member of the team at the Bath Massage company?
I have been member of the team for almost 2 years now.

Q2. What did you do before you joined the company?
I am a mum to my 10 year old boy, Jakub and worked for the Thermae Bath Spa before joining the Bath Massage Company.
Q3. What treatments and therapies do you specialise in?
I specialise in sports massage and deep tissue therapy, and also offer relaxing massages such as Swedish, Hot Stone and have just started offering Warm Bamboo treatments.
Q4. Do you have a favourite essential oil or blend and why
I love essential oils. My favourite is Rose Geranium because it is comforting, balances mood and at the same time it gives an energy boost. It also smells like heaven to me.
Q5. As a specialist in sports massage, what do you think is unique about your treatments?
I take a very considered approach in all treatments I provide. Listening to the clients needs and making sure that we are aiming for the same results is very important to me and the treatments I provide. As a sports massage therapist, I do not always agree with the 'no pain, no gain' rule – many people relate a sports massage with an unpleasant painful treatment but how I approach treatments is to always consider the individuals and their relevant needs.
Q6. How do you relax and rejuvenate when you are not working?
After long day at work, soaking in a hot bath and snuggling in bed with a good book, magazine, or watching a funny sitcom is what I need. However I love to be active and running is a favourite activity of mine so if my workday starts a bit later I'll squeeze in a run first thing. My family is everything for me and free time usually means family time. As a family we love spending time on the beach or exploring new and old places. Even if we're on sand, an old footpath, on our bikes – a few minutes outdoors, enjoying fresh air is just wonderful. 
Q7. What Is special about the place you grew up?
I grew up in Poland, in a region called Lower Silesia which is famous for its many castles and palaces (more than 100) which have so much history behind them and some very unique architecture to see. The breath-taking views of the beautiful Sudetes mountains are also very special and as someone who loves to be active, I spent much of my time in the mountains – hiking in the summer, skiing and cross-country skiing in the winter – it's definitely worth a visit!
Q8. Where in the world is your favourite place to visit?
Croatia – it is the perfect combination of beach life with soaring mountains and breath-taking scenery. So far, I've managed to visit two of beautiful islands this country has to offer… only 1242 left!
If you'd like to meet Kasia for a treatment she currently is available Monday to Friday – to make an appointment with Kasia please contact us.