Warm Bamboo massage goes beyond the physical experience of a typical massage and enters deeper dimensions of relaxation, health and well-being.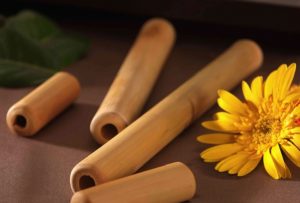 Originally from Asia and gaining popularity in the UK, this new therapy is wonderful to have if you like deep tissue work. It will leaves you feeling relaxed and energised and with a sense that your muscles have been stretched, warmed and elongated.
Physically the circulation and metabolism are stimulated – mentally you can reach a state of 'deep relaxation' and spiritually is balanced whilst healing takes place.
Benefits include:
Deeper relaxation than traditional massage
Toxin removal
Increases range of motion
Calms the nervous system
Increases rate and flow of blood circulation
Provides relaxation, decongestion and detoxification
Accelerates lymph drainage
What should I expect from my treatment?
Warm bamboo massage uses solid pliable bamboo sticks of different lengths and diameters to massage the body. The sticks are gently warmed and applied to give deep and long massage strokes to break down tension and stretch tight muscles. This treatment especially works well for runners and cyclists experiencing tightness in their legs, feet and IT band. It is also of great benefit to anyone suffering from shortened muscles due to postural imbalances.
Treatments are available for 60 & 90 minutes. Please contact us for further details and to discuss your requirements.