Hot Stone therapy is a totally harmonising, restoring and rejuvenating treatment for the body where Basalt stones are heated and applied to the body in a super relaxing way.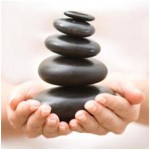 Hot stone therapy goes beyond the physical experience of a typical massage and enters deeper dimensions of relaxation, health and well-being. Physically the circulation and metabolism are stimulated – mentally you can reach a state of 'deep relaxation' and spiritually is balanced whilst healing takes place.
Hot stone therapy combines traditional massage with the use of smooth, heated basalt stones, which are applied to the body as an extension of the therapists hands. The warmth of these heated stones penetrates muscles and balances the nervous system like no other treatment.
Benefits include:
Deeper relaxation than traditional massage
Toxin removal
Increases range of motion
Calms the nervous system
Increases rate and flow of blood circulation
Provides relaxation, decongestion and detoxification
Accelerates lymph drainage
What should I expect from my treatment?
The premise behind hot stone massage therapy is that the direct heat of the stones relaxes muscles, allowing access to the deeper muscle layers. Combining hot stone protocols with a full body massage provides a very healing and effective experience. The hot stones also expand blood vessels, which encourages blood flow throughout the body. The hot stones have a sedative effect that can relieve chronic pain, reduce stress and promote deep relaxation. The warmed stones will be gently placed onto your body to help rebalance your energy and provide physical and mental therapy. The stones can also be used to mark places identified for localised trigger-point treatment.
Treatments are available for 60|90 minutes