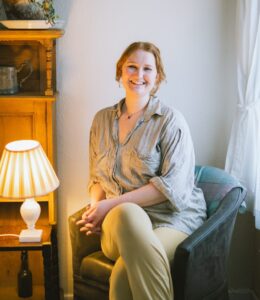 1. Tell us about yourself Ruby, what brought you to the world of massage and well-being?
I'd have to say my mum brought me into the world of massage, she is a trained aromatherapist and so growing up I was lucky to receive regular messages from her and also give them in return. This meant that by the time I was an adult I had grown up with an intrinsic understanding of how wonderful it was to receive a massage. At university, it's something I practised casually with friends. Eventually, I realised it was the thing I loved doing most in the world and decided to formalise it to be officially training to be a massage therapist!
My own journey has also led me to experience many different types of holistic therapies which inspire me to expand my own practice to offer treatments that draw on all kinds of different healing modalities. To me, the journey of well-being that each of us has is the most gratifying experience and I'm so pleased to be able to be on that journey myself and now be a part of others' journeys too.
2. Are there any particular areas of well-being you really love and are interested in?
Most definitely! I am partially passionate about massage for mental health and wellbeing. I think massage is a wonderful tool for mental wellness and it's a big part of my professional practice and how I want to develop as a practitioner. I wrote my final project when studying massage on working in sync with women's cycles and adapting my massage practice accordingly. In my personal well-being journey, I love to experience different somatic (body-based practices) as a way of exploring emotions and really enjoy treatments from Traditional Chinese Medicine practitioners. 
3. Do you have any exciting plans for the summer now we can go out and about again! (was thinking about your massage at festivals here?)
Yes, I am hopefully going to be massaging at some festivals this summer so keep an eye out for me! Having a massage at a festival is the best thing after camping and long nights dancing so I'm excited to be practising in that arena, also I'll be growing and developing myself at the Bath Massage Company which I am very excited about. Oh and hopefully a holiday in there somewhere too!
4. How do you relax and rejuvenate when you are not working?
I practice yoga twice a week with my favourite teachers in Bristol where I live. I also am massively into ritual skincare and baths, and tailor both of those to my daily needs as well as being a big proponent of naps and making the most delicious nourishing food, if you follow my business's Instagram you'll be able to see all the yummy food I post!
5. Where is your favourite place in Bath?
Rooted Cafe is the best vegetarian/ vegan cafe in the southwest, in my opinion, their full Indian breakfast and poutine are must haves, and their staff is so friendly it's always a wonderful experience!
Ruby works Saturday – to book an appointment with her please click here