Have you heard of Bamboo Massage? Our amazing therapist Kasia Gigon is now offering this unique massage treatment from our Bath venue.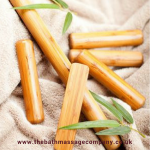 If you're wondering what is it, pieces of smooth bamboo are gently heated and used for kneading tight muscles and rolling out tension.
Sounds painful? Not at all, the bamboo is surprisingly pliable and you'll find yourself wondering if it's Kasia's hands or the bamboo that's kneading and massaging you! Read all about this lovely new treatment here.