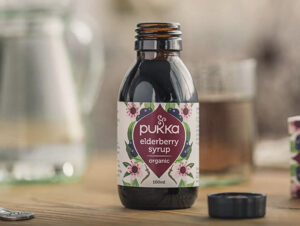 It's nearly October and there is definitely a chill in the morning air. As often happens a change in season can spark our health to change and often, we get colds and sore throats.
Now is a good time to look at your nutritional intake and adjust it to support the changes occurring. We are lucky to have Inga here at our venue who is trained in nutrition and can advise and recommend key supplements and products to use to support and boost our systems.
As therapists we have to take extra care of ourselves so that we can support our clients, and we are big fans of the delicious Pukka Elderberry Syrup, which is an organic blend including Ginger and Thyme, Elderberry juice, acacia honey and thyme, along with the other herbs in this syrup, and has long been used to help support seasonal health. It is a concentrated broad-spectrum syrup and contains the highest organic grade, sustainably cultivated herbs, carefully selected to bring you the full potential of nature's goodness.