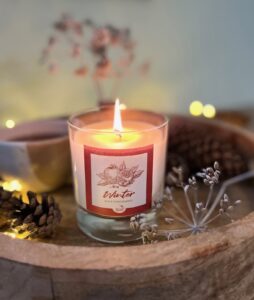 WINTER, our latest candle has now launched for the cooler season ahead.
We are very excited about our latest limited-edition natural candle, which has been hand-poured and created by Polly.
This new limited edition winter candle, WINTER, has been created using only the best and natural ingredients with soy wax, essential oil fragrance, and a recycled glass container and eco printed labels.
Infused with Black Pomegranate, this candle has a spicy accord with pink pepper, cardamom, armoise, thyme, frankincense, lime and lemon leading into a heart of clove, patchouli and lily with fruity notes of apple, plum and raspberry on a base of amber, tobacco, cedarwood, guaiacwood, cistus and musks, all perfectly created to combine winter inspired aromas to make you feel like totally Hugge!
None of our waxes or fragrances are tested on animals and they contain absolutely no palm oil.
The average burn time is approximately 40 hours. Beautifully packaged in a recycled card gift box with ribbon.
Ingredients: Soya wax, Black Pomegranate fragrance. Cotton Eco Wick, Recycled glass vessel. Recycled card gift box. Paraben free, palm oil free and vegan.  
Why not treat a friend or family member to a little bit of luxury this season and take advantage of our free P&P on orders of 2 or more.