2013 sees the addition of Baby Massage for Dads. We've had feedback that they are feeling a little left out so we've decided to let them into our lovely massage sessions.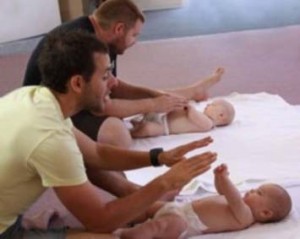 From January the courses will run for 6 weeks, not the usual 5.
On the 6th week it's the Dads turn to come along with baby and enjoy one hour of massage – learning the techniques and the art of baby massage.
The Dads day will be held on a Saturday so this also gives you Mums a great opportunity for an hour of 'me' time, perfect!.
Just For Dads – We have also launched 'Just For Dads' Workshops – a stand alone 90 minute session for Dads only. These will be held monthly. Contact Polly for dates
Here are some pictures from the first seesion which was a great sucess.
For 2013 course dates click here