National Baby Massage Week 13-18 May 2013
Date for your diary – Wednesday 15th May 2013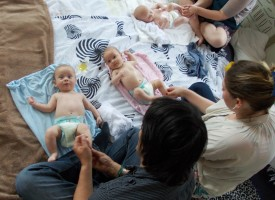 Discover the wonderful benefits and learn more about baby massage on Wednesday 15th May at 1.30pm
Location Parkside Children's Centre, Bath.
Polly will be holding a FREE 'taster' session where she will be offering an insight into all that  baby massage has to offer to you and your baby.  
– Learn about Baby Massage and watch a demo on some techniques
– Listen to a talk on the history and benefits of baby massage
– Meet other parents who have already benefited from the classes and share their experiences
– Benefit from a special discount for Baby Massage classes with Polly
Parents will also have the opportunity to ask Polly question such as, which oils to use, and when is the best time to massage baby.
Venue: Parkside Children's Centre,
Charlotte Street, Bath BA1 2NE

For futher information contact Polly