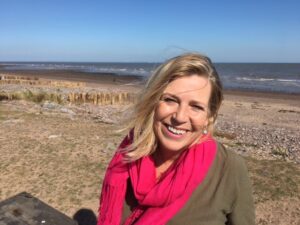 Q1. You've recently joined the Bath Massage company, what brought you to join the team?
I wanted to experience working with a new team of people and I know how passionate everybody at BMC is about massage.  It's a really friendly and supportive team to work with and the standard of massage is really high.  I also like working in Bath for the shopping opportunities!
Q2. What did you do before you joined the company?
I continue to work at Babington House, near Frome on a part-time basis and I've been there for 14 years. I love the buzz of the place as well as the beauty of the environment. I also work at an Osteopathic Clinic in Corsham and have been working with them for 10 years.
Q3. What treatments and therapies do you specialise in?

I like massages to be really relaxing as well as being therapeutic which is something that has stemmed from working in a Spa environment for such a long time.  I think massage should be as much about soothing the nervous system as it is about soothing muscles.  My massage is very much influenced by my studies of Myofascial Release. I also practice Reflexology and often incorporate it into my massages.  The feet can tell us so much about the body and Reflexology is incredibly relaxing. 
Q4. Tell us more about Myofascial release

I discovered Myofascial release a few years ago and studied at the School of Bodywork in Exeter.  Fascia is amazing stuff.  It's a continuous 3D matrix of connective tissue in the body that is the body's shock absorber and has approximately 6 times more sensory nerves than muscles and they relay information back to the central nervous system and help the body hold its shape and balance.  Fascia is found everywhere; in tendons, muscle, bone, ligaments and all the organs of the body.  Fascia can become stuck and bound down causing pain and restriction in movement and Myofascial release is about tuning into the fascial system and releasing those restrictions so that healthy function and a flow of nutrients 'in' and waste products 'out' can be restored.      
Q5. How do you relax and rejuvenate when you are not working?

I love walking (and occasionally even running) in the countryside and I also like swimming and yoga.  I've recently got into Yin Yoga which is very focused on the fascial system as the poses are held for a few minutes which is really relaxing for mind and body.  I also love having massages (of course) and do regular swaps with colleagues.  Apart from that, I love listening to all sorts of podcasts, and have a passion for music, comedy, animals and nature. 
Q7. What do you love most about your work as a therapist?

No two days are the same and every massage is different.  It's a real privilege to work with people's bodies and be able to help people feel better for a living.  It's endlessly satisfying and interesting work, even though it can be physically tiring.
Helen works every Wednesday – to book an appointment with her please click here